About
(updated: 3/13/2020)
Social distancing is the new watchword.
The South Bay Folks Open Mike is on hiatus for a while.
Stay healthy.
Open to all acoustic musicians, singers, and songwriters, the South Bay Folks Acoustic Open Mike has been a popular feature of the South Bay music scene since 1992. A number of traditions have evolved over the years to keep the evening running at a brisk pace and to ensure that everyone gets an equal chance to play. You'll find pertinent info on how to sign up, performance guidelines, and directions below.
When & Where
Directions:
Bogey's Pizza is located in the Robertsville Square shopping center, near Britania Arms Almaden. Driving directions are available from Google maps.
Bogey's Pizza offers tasty pasta, pizza, sandwiches, salad, wine, a variety of beers on tap, and more at reasonable prices.
Sign Up & Selection
Drop your name in the jar before the drawing begins at 6:45pm. You must be present at the time of the drawing; no "phone ins" allowed.
Performers holding a valid rain check from the previous SBF open mike (see below) must present their rain check to the host, and place their name on the board before the drawing begins.
Please sign up once. "Tom & Jerry," should not sign up as "Tom with Jerry" and then again as "Jerry with Tom." We want to ensure that everyone gets a fair chance at a slot, not to discourage folks from backing up other performers. If in doubt, ask the host.
Performers get to choose one of eighteen time slots as their names are randomly drawn from a jar.
Names will not be added to the jar once the drawing has begun. Late-comers must wait until after the drawing is complete to claim any slots that may remain.
After all eighteen time slots are filled, the drawing will continue from the names remaining in the jar to award up to nine rain checks. A rain check guarantees the holder a slot at the next regularly scheduled open mike (only). Rain checks are not transferable, and must be presented to the open mike host before the evening's drawing begins.
Performance Guidelines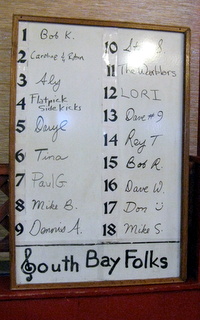 The SBF open mike is intended to showcase musical talents; it is not a poet's or comedian's open mike.
Instrumentation must be acoustic. (An exception is made for electric bass when plugged directly into our board.) No synthesizers, sequencers, karaoke machines, tape or CD players. Note that there is no piano at Bogey's Pizza; keyboards set to an acoustic voice are OK.
All genres are welcomed. While many performers would easily be recognized as "folk" musicians and singers, a wide variety of music is performed.
Performers are allowed two songs or 10 minutes -- whichever comes first.
Be tuned up and ready to perform when your turn comes, or you will be bumped to the end of the list.
Instruments with pickups must plug into our board. Leave the amplifiers, effects boxes, etc. at home. Direct boxes are OK, but double check that you have a good battery and good cables. Delays in setup come out of your performance time.
Please be aware that children are often present and adjust your performance accordingly.